Treatment Plant For Industrial Laundry Wastewater Reuse
The treatment plant consists of an UltraFiltration (UF) unit and a NanoFiltration (NF) unit and it is a fully automated system with web remote control. Up to 50% of the wastewater coming from the biological treatment can be treated and easily reused in all laundry processes. Reused water is also sterilized by adding a certain amount of peracetic acid. Suspended solids and bacteria are totally removed by the UF system, and water colour is almost completely eliminated. The NF system causes salinity reduction to 100-200 mg/L, removal of most of the surfactants and total colour elimination. Produced water is sent to an accumulation tank. The UF treatment process is a self-adaptive system depending on wastewater quality. The PLC control system sets membrane operation parameters and washing frequency according to water turbidity. The treatment plant is equipped with several instruments for water quality control. The treatment plant in this picture has a capacity of 280 m3/day as produced water.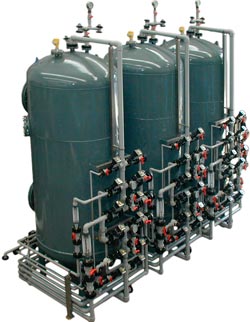 Systems For Treatment Of Hydrochloric Acid
Equipment for the treatment with active carbon of exhausted sodium chloride. The equipment includes 2 treatment columns and 1, in cascade, for refining. An innovative system designed by Tecnocom, provides automatic replacement of the active carbon columns at the end of the preset processing cycle, without stopping the system. The two columns, which usually operate at the same time, at cycle end are, alternately and automatically, disconnected from the processing cycle, emptied, cleaned, filled with new carbon and repositioned in the process. Exhausted carbon is conveyed to a specific tank.
Softeners For Treatment Of Hot Condensates
The system can operate up to 100 C°, softening polluted condensates. The column is in AISI 316 L and is provided with diffusers in pvdf. The valves with simple effect actuator are in cast iron with lens in AISI, the regeneration system is fully automated and can be performed both with cold hard water and with the condensate. The brine solution is realized with hard, cold water. Regeneration can be carried out in volumetric, timed or manual mode. It is possible as well to realize systems which operate in counterflow to reduce the consumption of salt and water during regeneration. The counterflow system enables a reduced escape of hardness; for such system it is necessary that the amount of solids suspended in water is very low.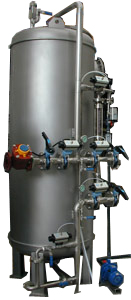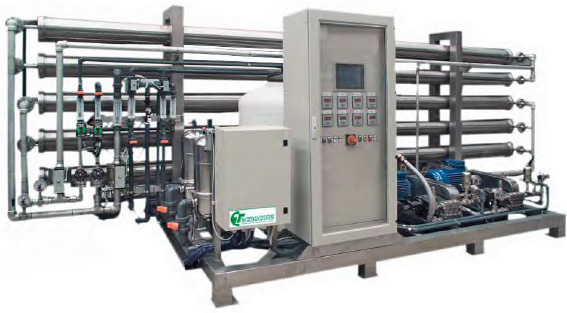 Reverse Osmosis For High Salinity Water
Reverse osmosis system for high salinity water (30,000 ppm).
The system acts as a component in a process for the recovery of zinc salts, treating discharge water to enable its recycle in production. The unit operates at high pressure (up to 70 bars). The system flow rate is 25 m3/h.
The system allows to reduce denitrification of the nitrates drinking water to values ??below the limits of the law according to the DL 31/2001, values ??much lower than 50 mg / l, the system is in alternate duplex and allows a continuous production of 10 mc / h. The fully automatic regeneration using sodium chloride and water. The denitrification in question is managed by an external PLC that also manages a quartz filter and a reverse osmosis.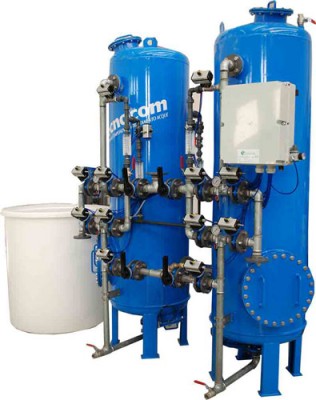 OTHER TYPES OF TREATMENT:
DENITRIFICATION FOR DRINKABLE WATER
MIXED BEDS WITH REGENERABLE RESINS
AMMONIA TREATMENT
TREATMENT OF METALS FROM WASTE WATERS
BORON TREATMENT
RECOVERY OF GOLD FROM PROCESSING WASTE
TREATMENT OF SULPHATES BY MEANS OF RESINS
SDI VALUE REDUCTION BY MEANS OF SIMPLE QUARTZ FILTERING AND ADDITION TO A SPECIAL, TIMED, COAGULANT DOSING SYSTEM
MICRO, ULTRA AND NANO FILTERING SYSTEMS
ORGANIC COMPOUND ABSORPTION SYSTEMS USING REGENERABLE RESINS
OZONIZATION SYSTEMS
Our company can provide a series of pilot systems to verify the feasibility of the treatment.
These systems can be leased to the customer.